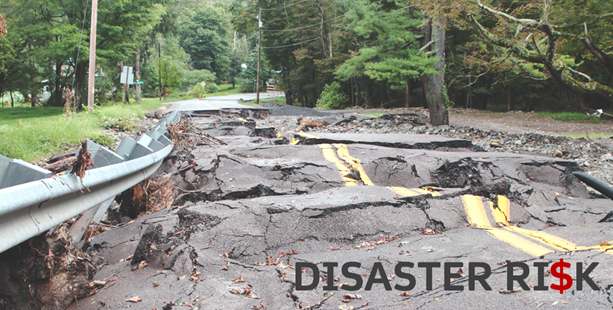 Context and Motivation
 
Disasters have the potential to cause serious economic and fiscal repercussions by destroying both human and physical assets, disrupting businesses, affecting tax bases, and imposing financial costs on the government to fund post-disaster response, recovery and reconstruction operations. Data on disaster incidences reveals that between 1980 and 2019, disasters caused more than 2.6 million human deaths and affected 7.3 billion people worldwide. Although some success in saving human lives was achieved after the Hyogo Framework for Action (HFA: 2005–2015) was introduced, direct economic losses in the form of property and infrastructural loss continued to rise.

From 2000 to 2019, the total direct economic loss reported by disaster-hit countries was valued at US$2,577 billion (in current prices), out of which about 71 percent was caused by climate-related disasters like storms, floods and droughts. This is about 200 percent more than losses reported in the previous 20-year period from 1980 to 1999 (US$884 billion). Further, the average annual direct economic loss (US$169 billion) in the last decade has almost doubled since 2000–2009. A majority (about 60%) of the direct economic losses have been experienced in the critical infrastructure sectors like power, transport, telecommunication, and water.

This overwhelming increase could constitute a major fiscal problem for governments worldwide. Severe catastrophic events in recent years such as the tsunami in Japan, earthquakes in New Zealand and Nepal and multiple floods and cyclones in India have caused tremendous direct economic losses and highlighted the importance of developing a viable disaster risk financing (DRF) strategy for governments. This will help in mitigating post-disaster economic losses effectively and also create a buffer for absorbing the long-term fiscal impact of such events. 
 
CDRI's Contribution

Financing Resilience and Adaptation is one of the core action portfolios of the Coalition for Disaster Resilient Infrastructure (CDRI). It is a priority for CDRI to build the financial resilience of its member countries. CDRI provides them with technical support to develop comprehensive DRF strategies and protect public finances from the fiscal shocks associated with disasters. To this end, CDRI is committed to undertaking a Fiscal Risk Assessment study to support the development of comprehensive DRF strategy in its member countries. 

Recent catastrophic events have shown that a majority of disaster losses are experienced in the critical infrastructure sectors of transport, power, telecommunications and residential housing. These sectors will be the key focus of the proposed study. 
Expected Outcomes

The Budgetary Analysis and Policy Review Study will analyse the current fiscal exposure of governments to disaster-induced losses, identify post-disaster funding gaps, and review existing DRF tools and practices. It will contribute to policy developments in CDRI member countries by:
Providing a detailed assessment of existing and future (expected) fiscal risks and funding gaps. This will act as the first step towards building a comprehensive DRF strategy.
Enabling a comprehensive understanding of the existing DRF policies and practices, budgetary arrangements, and standard operating procedures.
Identifying and developing suitable DRF solutions. 
Initiating a policy dialogue between and among members around the relevance and need for a comprehensive DRF strategy.
Paving the way for other projects that explore the viability and efficacy of different DRF instruments like insurance and bonds, especially in the context of under-developed financial markets.