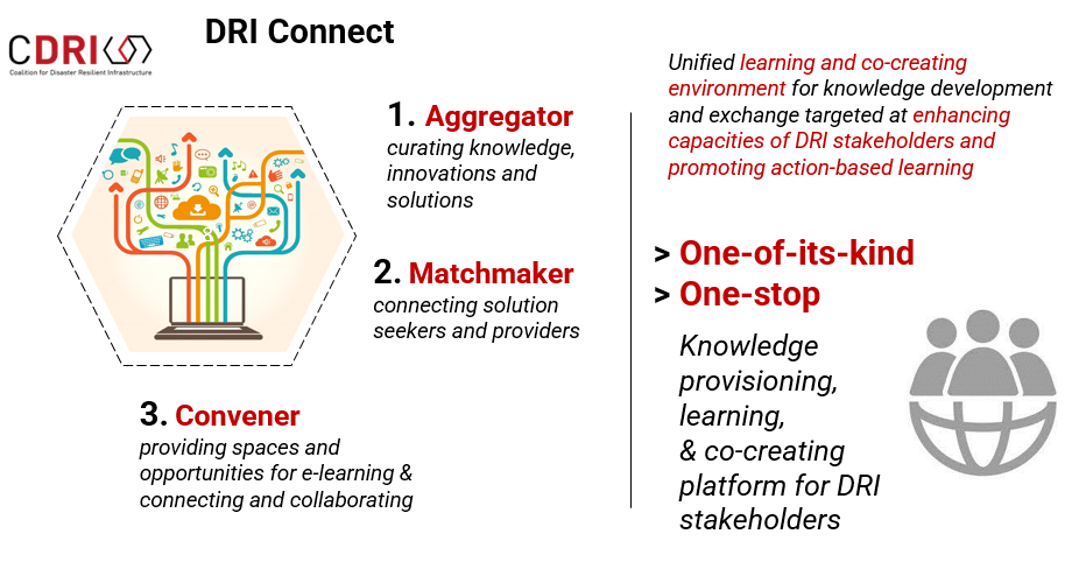 To leverage the Coalition's growing and diverse membership, CDRI is developing a unified digital engagement, learning and co-creation platform for its stakeholders, DRI Connect, which will comprise the following key components:
Learning, collaboration and co-creation space via E-learning and Communities of Practice functionalities

Knowledge Portal, a comprehensive knowledge repository on DRI

Marketplace, enabling access to investments in resilient infrastructure
The DRI Connect platform will be one of its kind in serving as the one-stop online space for DRI stakeholders to connect, learn and collaborate towards improved practices, processes and policies for resilient infrastructure systems.
Knowledge Portal (KP)
Often knowledge creation and its adoption in practice is limited by institutional mandates, organizational capacities and avenues for accessing new knowledge. It is therefore imperative that knowledge on DRI be effectively disseminated at all levels. CDRI's Knowledge Portal has been envisioned as a structured, searchable, customizable, and intelligent online platform with comprehensive coverage of existing as well as new knowledge products on DRI, made accessible for researchers, practitioners, policy makers, and public in the ways most suitable to their respective needs.
CDRI Resilient Infrastructure Marketplace
To promote and strengthen the market for disaster and climate resilient infrastructure systems and enable connects for investments in resilient infrastructure, a virtual exhibition platform – CDRI Resilient Infrastructure Marketplace – was organized at ICDRI 2021 and 2022. The Marketplace facilitated the matching of demand from Member Countries requiring technical services and assistance with private sector entities, financial sector, knowledge and research institutions and other organizations that could offer and provide those services. The Marketplace provided access to technology products, design and policy solutions, research, innovations, and solutions on resilient infrastructure. Going forward, Marketplace will be a permanent platform for stakeholders and their entities to propagate and promote resilience of infrastructure by provisioning options to connect, engage and collaborate.
Communities of Practice
As part of its DRI Connect initiative, CDRI has initiated a series of knowledge offerings to promote synergy and synchronicity in solutions for resilient energy infrastructure systems. Among these, a Community of Practice (CoP) on Resilient Infrastructure for Energy Transition was announced at COP27. The Community of Practice is expected to serve as a global knowledge exchange and co-creation platform advancing disaster resilience of infrastructure within the energy transition discourse. CDRI has also seeded a Community of Fellows within its Fellowship Programme to promote peer learning and sharing of knowledge and resources on topics related to resilience of infrastructure.