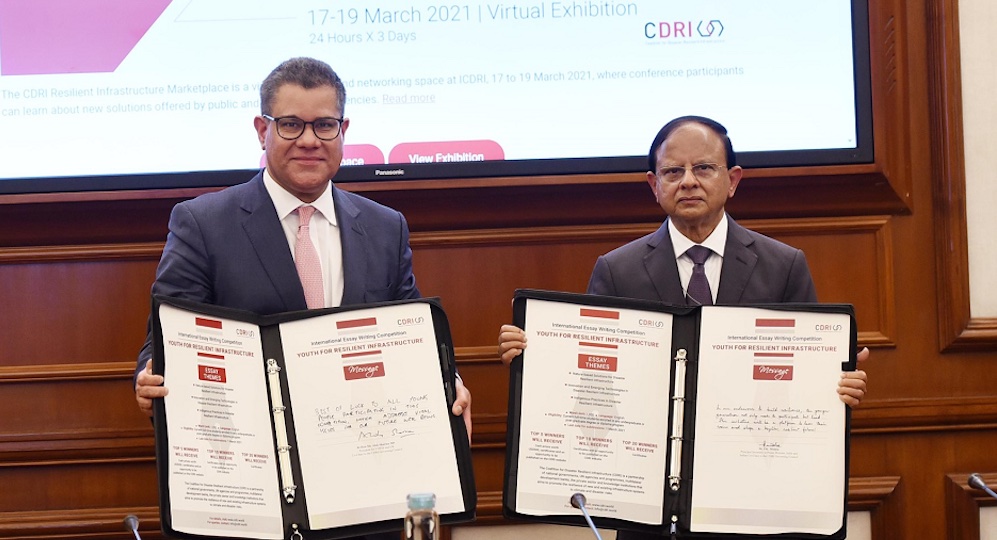 News Update
15/02/2021
NEW DELHI, 15 February 2021 -- Youth represents an important and dynamic segment of the population in every country. Today's youth are tomorrow's innovators, creators, builders and leaders. The assurance, devotion and vitality with which young minds work make them the most promising changemakers of the future. This is why the Coalition for Disaster Resilient Infrastructure (CDRI) believes youth engagement is crucial to mobilizing change for positive social development.
CDRI recognizes that infrastructure systems are key drivers of economic growth. Between 2016 and 2040, the Global Infrastructure Hub pegs the global annual infrastructure investment needs at US$3.7 trillion per year. Young people globally are poised to drive these investments as practitioners, academicians and policymakers. Realizing the unique potential of youth leadership in driving change for a resilient world, CDRI is proud to announce the " Youth for Resilient Infrastructure" International Essay Competition. This event will provide a platform to harness youth for resilience by engaging, inspiring and invigorating young minds and future changemakers in the field of disaster resilient infrastructure.
Essay Competition Themes
All entries for the essay competition should be in English, not exceed1,000 words and be aligned to any one of the following themes:
1. Nature-based Solutions for Disaster Resilient Infrastructure
2. Innovation and Emerging Technologies in Disaster Resilient Infrastructure
3. Indigenous Practices in Disaster Resilient Infrastructure
Eligibility
The competition is open to all current full-time registered students enrolled in any undergraduate or post-graduate degree program or diploma course from any country.
Timelines
Last date of essay submission is 1 March 2021. The top five entries will be announced during ICDRI 2021, which will be held from 17 to 19 March.