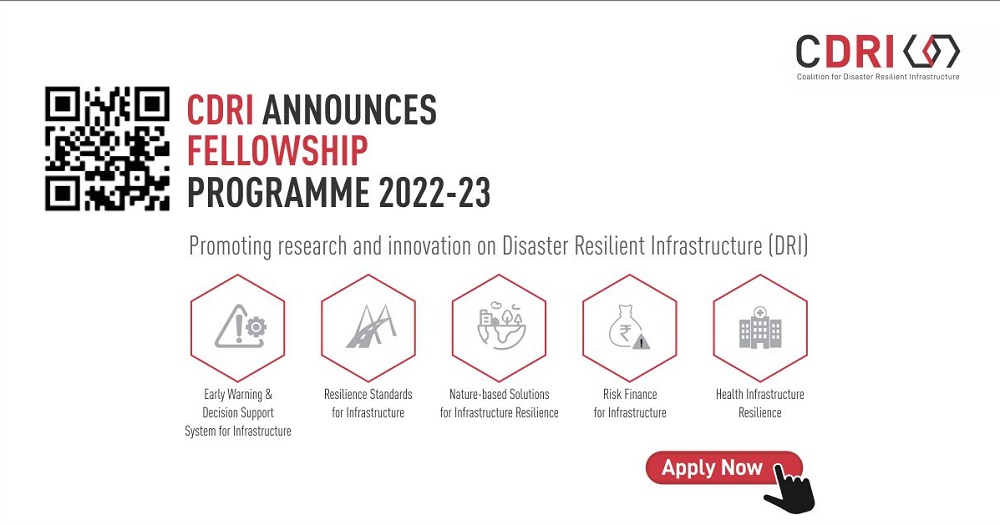 The Coalition for Disaster Resilient Infrastructure (CDRI) has launched the CDRI Fellowship Programme 2022-2023. The aim of the Programme is to promote research and innovation on disaster resilient infrastructure (DRI). The Fellowship application portal is now open and will accept proposals till 30 September 2021.
The CDRI Fellowship Programme supports research focused on urban, rural or regional contexts, whether it is focused on the resilience of existing infrastructure or new infrastructure. The research study may concentrate on risks at the level of asset (e.g. construction technology for components of a power transmission network) or risks at the level of an infrastructure system (e.g. innovative ways to identify vulnerable nodes in a power grid).
The Programme supports research on building resilience of infrastructure to disaster risks emanating from both natural (hydro-meteorological and geophysical hazards) and man-made hazards. The proposed research may look at risks from extreme events as well as slow-onset events including those emanating from the emerging effects of climate change.
CDRI Fellowship Programme 2022-2023:
The themes for this Fellowship programme are:
Early Warning & Decision Support System (DSS) for Infrastructure
Health Infrastructure Resilience
Resilience Standards for Infrastructure
Nature-based Solutions (NBS) for Infrastructure Resilience
Risk Finance for Infrastructure

Infrastructure Type:
Physical infrastructure (e.g., power, telecommunication, roads, railways, and airports),
Social infrastructure (e.g., schools, hospitals, and community infrastructure),
Ecological infrastructure (e.g., natural waterways, wetlands, mangroves)

Other Key features of the Programme:
Grant: Up to US$15,000 or equivalent
Research Duration: One year
Application portal: Open from 15 July 2021 to 30 September 2021

Eligibility:
Students, scholars, faculty, or researchers from academic institutes; practitioners from government agencies, service agencies, non-governmental organizations, private organizations; as well as community workers from CDRI Member Countries.
A candidate can be part of up to two Research Projects at a time.
For more details, visit the Fellowship Website.
To know more about the ongoing projects of the year 2021-2022, you can view the current CDRI Fellows cohort here.
About CDRI's Fellowship Programme:
Making tomorrow's infrastructure sustainable and resilient requires investing in high caliber research and innovation today. Started in 2020, the CDRI Fellowship Programme is designed to develop a global pool of practitioners who represent such capabilities.
The Fellows get an opportunity to interact and exchange ideas with their peers, across the world. CDRI strongly encourages fellowship applications that have a clear practical implementation approach. Promising solutions emerging from the Programme may be shared widely and taken up for implementation in multiple contexts. Upon successful completion, the Fellows will join the global network of CDRI alumni and participate in alumni events.