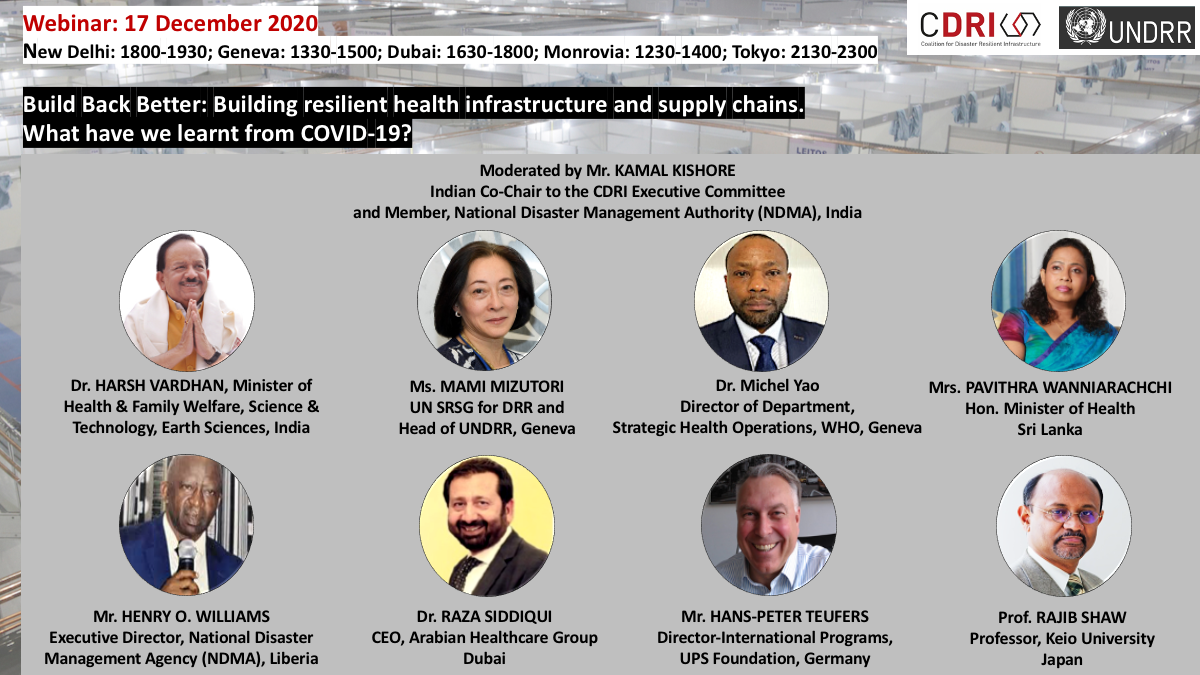 News Update
22/12/2020
NEW DELHI, 22 December 2020 – While the challenge of reaching a comprehensive global response to the coronavirus pandemic continues, experts are highlighting lessons to ensure more resilient health infrastructure and supply chains while acknowledging the importance of strong public and private collaboration and an empowering political will from national leaders.  
The experience of COVID-19 is drawing out many best practices and some timely calls for action at all levels of society to help the international community build back stronger ahead of future pandemics.  
The Coalition for Disaster Resilient Infrastructure (CDRI) and the United Nations Office for Disaster Risk Reduction (UNDRR) capture many of these important points in a webinar 17 December titled, "Build Back Better: Building Resilient Health Infrastructure and Supply Chains. What Have We Learned from COVID-19?" 
Moderated by Kamal Kishore, Member, of India's National Disaster Management Authority, India, insights and recommendations for action from the webinar will be compiled and fed into the International Conference on Disaster Resilient Infrastructure (ICDRI) to be held online from 17 to 19 March 2021.  
"If I said that the year 2020 has been a difficult year for the entire humanity, I don't think it would be an exaggeration," said Mr. Kishore. "There have been many lessons. We've seen how quickly the impacts of an event like this can ripple across the entire global system. There is no country which can claim that it is entirely unaffected. All countries are affected; all sectors are affected. It's not just the health sector, but the transport sector, power sector, manufacturing and tourism."  
Resilience and Global Action are Key Themes 
"The key lesson from the pandemic is that the principles of resilience must be integral to our quest for economic growth as individual nations and the international community," Dr. Harsh Vardhan, Minister of Health & Family Welfare, Science & Technology, Earth Sciences, Government of India, told webinar attendees from 59 countries. "We need to pursue disaster resilience as an essential area of common interest globally. Our lives and livelihoods may very well depend on it." 
According to Dr. Vardhan, "We must forge a global dialogue and chart directions for a resilient future for humanity at large. This would be the most worthy tribute to our people – particularly health workers, emergency responders, frontline workers – who have put the world's safety before their own personal safety." 
Keeping COVID-19 frontline works safe is paramount, but it is complicated by a range of constraints taxing health systems in virtually every country.  
 
"There are deep rooted vulnerabilities in industry practices, health care policies, infrastructure, logistics, risk assessment and supply chain management, which can undermine effective prevention and response," said Secretary-General's Special Representative for Disaster Risk Reduction, Mami Mizutori. "Now, more than ever, the links between climate change, disasters and public health need to be understood, so that investment in public health infrastructure and services are all risk informed and resilient." 
Resilient health infrastructure and supply chains must result in equitable care and protection. "There must be solidarity among countries, donors and partners to ensure the road to recovery is equitable," said Dr. Michel Yao, Director of the Strategic Health Operations Department at the World Health Organization in Geneva. "No one is safe until everyone is safe and exclusion is more costly in a long run – all refugees, migrants and other people on the move must be included in the preparedness, response and recovery activities." 
Best Practices 
Webinar speakers pointed to several best practices for addressing future pandemics. In a message read on her behalf, Sri Lanka's Minister of Health, Pavithra Wanniarachni, said her country responded to COVID-19, by ensuring essential health, banking, electricity, water supply and garbage disposal services under national pandemic operation guidelines and implemented by the public and private sectors. 
In Liberia, national leaders, including the president, stepped in quicky, drawing from action plans during previous pandemics. "We had the experience of Ebola, so the political will was there from the start. COVID-19 has taught us to be ready at all times," said Mr. Henry O. Williams, Executive Director Liberia's National Disaster Management Agency (NDMA). 
The private sector has also had a clear role. Public and private healthcare collaboration, dispelling rumors and clinic staff testing vital to build confidence and address COVID-19 in Dubai,  explained Dr. Raza Siddiqui, CEO of Arabian Healthcare Group. "When the situation of COVID came, both private and public sectors got together in healthcare ... Both were allowed to do extensive testing, and the government collaborated with the private healthcare sector in mass screening," he said, adding that country created quality quarantine centers in available hotels rooms. 
Advanced planning and simulation exercises are key, said Mr. Hans-Peter Teufers, Director of International Programmes at the UPS Foundation: "We have to make sure that through simulations we have an understanding of what we want, and then make decisions which might be political on how to cover the cost of [resilient health] infrastructure." 
Future Recommendations 
For Prof. Rajib Shaw, Professor in the Graduate School of Media and Governance of Keio University, Japan, and Co-chair of the Asia Pacific Science Technology Academic Advisory Group (APSTAAG), a comprehensive healthcare system with worst-case, multi-hazard scenario planning, a balanced approach of cure and care factors with a social safety net and inclusive healthcare delivery are vital lessons for an effective COVID-19 response and beyond. 
"Look at a more comprehensive resilience perspective of the healthcare system. We often have our worst-case scenario for only one type of hazard. So how can we have a multi-hazard, cascading worst-case scenario?" He noted that it is important to consider how the pandemic and other "cascading" disasters like the typhoons, flooding and heat waves over the past year have affected individual patients as well as healthcare system as a whole. 
 
Follow https://cdri.world/ICDRI-2021.php for more information about resilient health infrastructure and other topics that will be covered in the March 2021 ICDRI session. 
Watch the complete webinar here: https://youtu.be/TFi_UaNeR5A