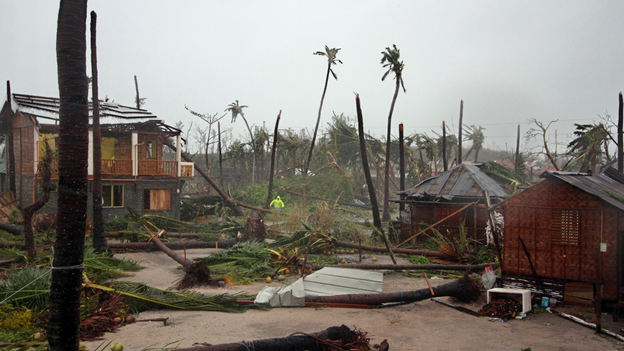 Resilience is the adjective often used to describe us Filipinos. Objectively speaking, we are the type that would just laugh off any difficult situation or circumstance, from petty traffic issues to catastrophic floods and earthquakes. This so-called national characteristic may be well admired, but sad to say it does not emulate the stability of our nation's infrastructure. 
As the old adage goes, "Change is constant". With the world constantly in motion, our nature also moves in evolution. However, in consequence to human beings' recklessness, our world is simply expected to turn towards the worse. Looking forward to more fatalities and losses as evident by the gradual increase in the severity of earthquakes, typhoons and other natural hazards. 
So where does that leave us 'Filipinos'? 
With the country situated inside the Pacific Sphere of the alleged "Ring of Fire", a district where 75 percent of the world's volcanoes are located, earthquakes are expected to be a regular occurrence, making it one of the most destructive calamities for the country. This is especially true in the advent of rapid development and unprecedented rise of buildings. In accordance, with the country being in the third world category, it is also presumed that most infrastructures in marginalized communities are built sub-standard, using low grade materials and inadequately planned designs.
With this as the case, it is therefore imperative to know the structural performance of existing buildings, should intense earthquakes hit the area. Through science and technological advancement, determination of an infrastructures' stability has become possible, by subjecting it to a series of structural analyses.
I had the opportunity of evaluating this process during my undergraduate years. There was a requirement of software modelling of the building where critical points are identified using the pushover analysis. Then, results from the pushover analysis were used to generate the fragility curves in application of the 'Fragility through Capacity Spectrum Assessment' (FRACAS) method - A new approach for the derivation of fragility curves which uses inelastic response spectra derived from ground motion records.
Given the expression P(DS⩾dsi|IM), fragility curves are measured as the relationship between the ground motion intensity measure (IM) and the probability that the specified structure will reach or exceed predefined damage states. Through the identification of such, it is then possible to calculate for the probabilities of failure, level of performance and damage intensity of the buildings, assessed at different possible ground motions in event of an earthquake. 
There are no siren warnings for earthquakes. Parallel to our world being volatile, uncertain, complex and ambiguous, it shares the same characteristics. However, it need not be a cause of threat, as recent analyses (such as the one cited above) are now capable of mitigating hazards, minimizing exposures and reducing possible vulnerabilities. Us being able to utilize such technological analyses starts with heightened awareness, wherein we should continuously inform, equip and motivate our youth to make conscious decisions to render our new-found knowledge and advanced equipment effective in building a more resilient community.
Youths are the future. We dictate the direction and progress of our nations. Thus, it is essential for our current leaders to provide robust support and empowerment to the youth for the effective and efficient utilization of technologies, research and resources.
Developing countries, as a matter of fact, have insufficient resources, making it imperative to educate the youths and have them take on the responsibility of mobilizing change for positive social development. Only then could it be assured that they would continue on with the mission of improving and administering technicalities customized for our country's structural conditions.
My personal letter to the Filipino youth: 
As a young Filipino just like you, I share the same economic, geographical and infrastructural challenges. Witnessing the impact these have caused our fellow men created an awareness that immediately took a foothold on me, becoming a personal obsession - choosing to make conscious decisions to encourage, uplift and empower the community, enabling them to have a stand against setbacks caused by calamities, while still holding on to the hope of attaining better lives.
 
We have been drawn to understand that despite all the support from our government, international organizations, non-government units, and other private entities, resources are deemed limited. Thus, to work towards a better community, we should not solely depend on others, but rather also depend on ourselves. We should learn to be accountable for each other, realizing that everything we do would affect the other, either for the better or for the worse. Thus, in our journey towards a resilient community, we should realign our visions towards a sustainable development goal - being able to effectively use our individually unique skills, new scientific wisdom, and the advancement of technologies in creating a community who takes pride in knowing that their current leaders and future youth leaders are united in the building of one resilient country. 
A special message to my fellow aspiring engineers: 
I personally chose Engineering because I love math. I also love the idea of it being technical and systematic. But in all honesty, the reason I was in it was because of the praise and recognition the profession extends. However, through the years of learnings and discoveries, I became more and more fascinated with the craft. Then the simple fascination eventually grew into an intense passion.  

I know all of us have the same passion. Most may even have exemplary skills, but in reality, what matters most in this profession is our acceptance that with it comes accountability - a sense of responsibility not just to ourselves but also to our people. Throughout our engineering career, we are thus bound to the commitment of not just abiding by ethical practices, but also working hard and making choices for the benefit of all.  

The future is ours to mold. Thus, if we would just consider our community's limitations, factor in all available resources, use advance methods of calculation, together, we could save lives - through gifting our communities with disaster resilient infrastructures. 
Jameson Glen Chiu Lim from Philippines is one of the 10 winners of the Youth For Resilient Infrastructure Essay Competition.
This essay is the seventh in a series of 10, written by youngsters from across the world.
The views and opinions expressed in this blog are those of the author and do not necessarily reflect those of the Coalition for Disaster Resilient Infrastructure (CDRI).