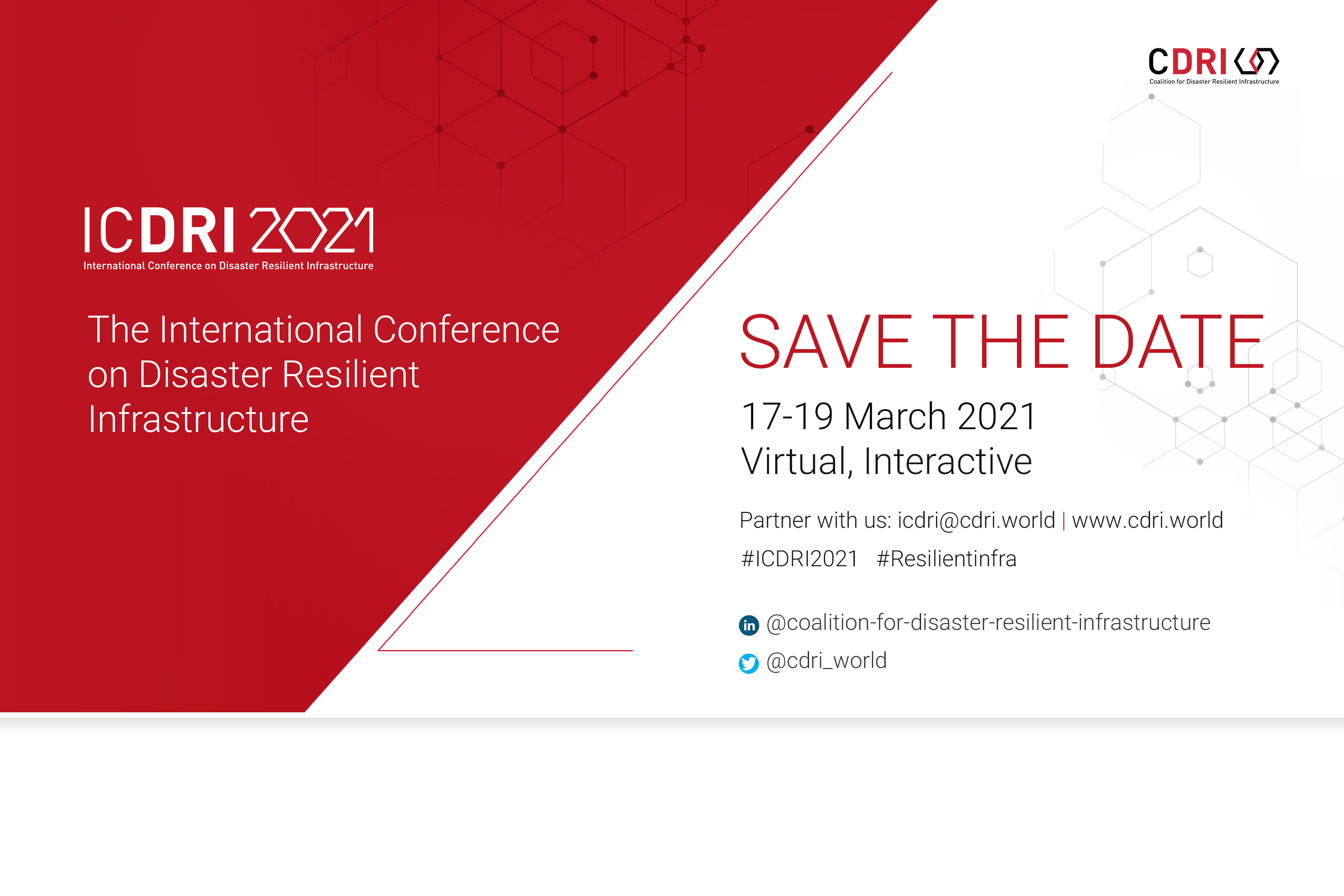 17/03/2021
Visit the International Conference on Disaster Resilient Infrastructure (ICDRI 2021) microsite for more information on conference agenda, sessions, speakers and more - https://icdri.cdri.world/
The International Conference on Disaster Resilient Infrastructure (ICDRI) is an annual international conference and platform to continue building an engaged global community for disaster and climate resilient infrastructure. Organized from 17 to 19 March 2021 by the Coalition for Disaster Resilient Infrastructure (CDRI), the conference will bring together stakeholders from partner countries representing national disaster risk management agencies, key infrastructure sectors, multilateral development banks, UN agencies, academia and research institutions, the private sector and policy think tanks.
ICDRI 2021 will deliberate on international commitments that are significant for building disaster and climate resilient infrastructure.
Please visit the CDRI website (www.cdri.world) for key updates on the conference. You can also follow us on Twitter (@CDRI_world) and LinkedIn (@coalition-for-disaster-resilient-infrastructure) to receive the latest updates on CDRI's activities.
We welcome your support and partnership to ensure a successful ICDRI 2021. Should you have queries, please feel free to contact us at icdri@cdri.world. We look forward to your collaboration in this important conference.
ABOUT CDRI
Launched by the Prime Minister of India, Narendra Modi, at the 2019 UN Climate Summit, the Coalition for Disaster Resilient Infrastructure (CDRI) includes Afghanistan, Argentina, Australia, Bhutan, Chile, Fiji, France, Germany, India, Italy, Jamaica, Japan, Maldives, Mauritius, Mongolia, Nepal, Peru, Sri Lanka, Turkey, the United Kingdom and the United States of America, have all endorsed the CDRI Charter. Four multinational organizations—the World Bank Group, the Asian Development Bank, the United Nations Development Programme and the UNDRR and one private sector organization ARISE—are supporting partners.