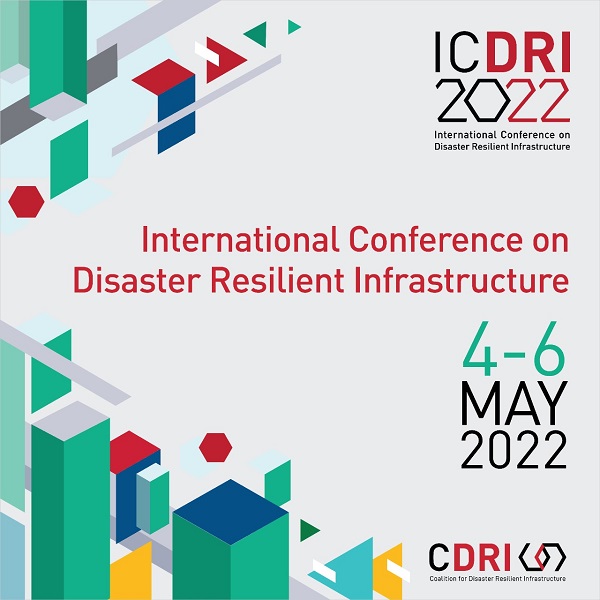 Envisioning a People-centered and Resilient Infrastructure Transition
4-6 May 2022
Register here for the conference: https://icdri.cdri.world/
We are in the midst of several global transitions. These transitions are changing the way we are reimagining our future, the infrastructure that will get built. At the heart of these complex transitions, are people. In light of these transitions, new questions arise with regards to the notion of "resilient infrastructure." And how can people be made change agents in building resilient infrastructure? The ICDRI will be an opportunity to address and emphasize on Resilience of Transitioning Infrastructure Systems as a goal that is instrumental to realizing 1.5oC, climate adaptation for the most vulnerable, and attaining energy transition targets that integrate resilience.
ICDRI2022 will engage with decision-makers, practitioners and communities from across the world to discuss challenges, identify good practices, develop collaboration and galvanize concrete actions. It will include multi-sectoral and multi-country discussions around infrastructure transitions, risk governance and finance, innovation and human-centered, ecologically sensitive design for building resilience. Policy, regional, sectoral and thematic forums led by global experts along with a space for networking opportunities will constitute the structure of the conference.
Please visit for latest updates:
Website: https://icdri.cdri.world/
Twitter: @CDRI_world
LinkedIn @coalition-for-disaster-resilient-infrastructure
We welcome your support and partnership to ensure a successful ICDRI 2022.
Should you have queries, please feel free to contact us at icdri@cdri.world. We look forward to your collaboration in this important conference.
About ICDRI:
The International Conference on Disaster Resilient Infrastructure (ICDRI) is the annual conference of the Coalition for Disaster Resilient Infrastructure (CDRI). It brings together member countries, organizations and institutions to strengthen the global discourse on disaster and climate resilient infrastructure. In 2018 and 2019, the first and second International Workshop on Disaster Resilient Infrastructure took place in New Delhi, India. ICDRI 2021 was hosted virtually.
The fourth edition of ICDRI will be organized in a hybrid format in New Delhi from 4-6 May 2022.