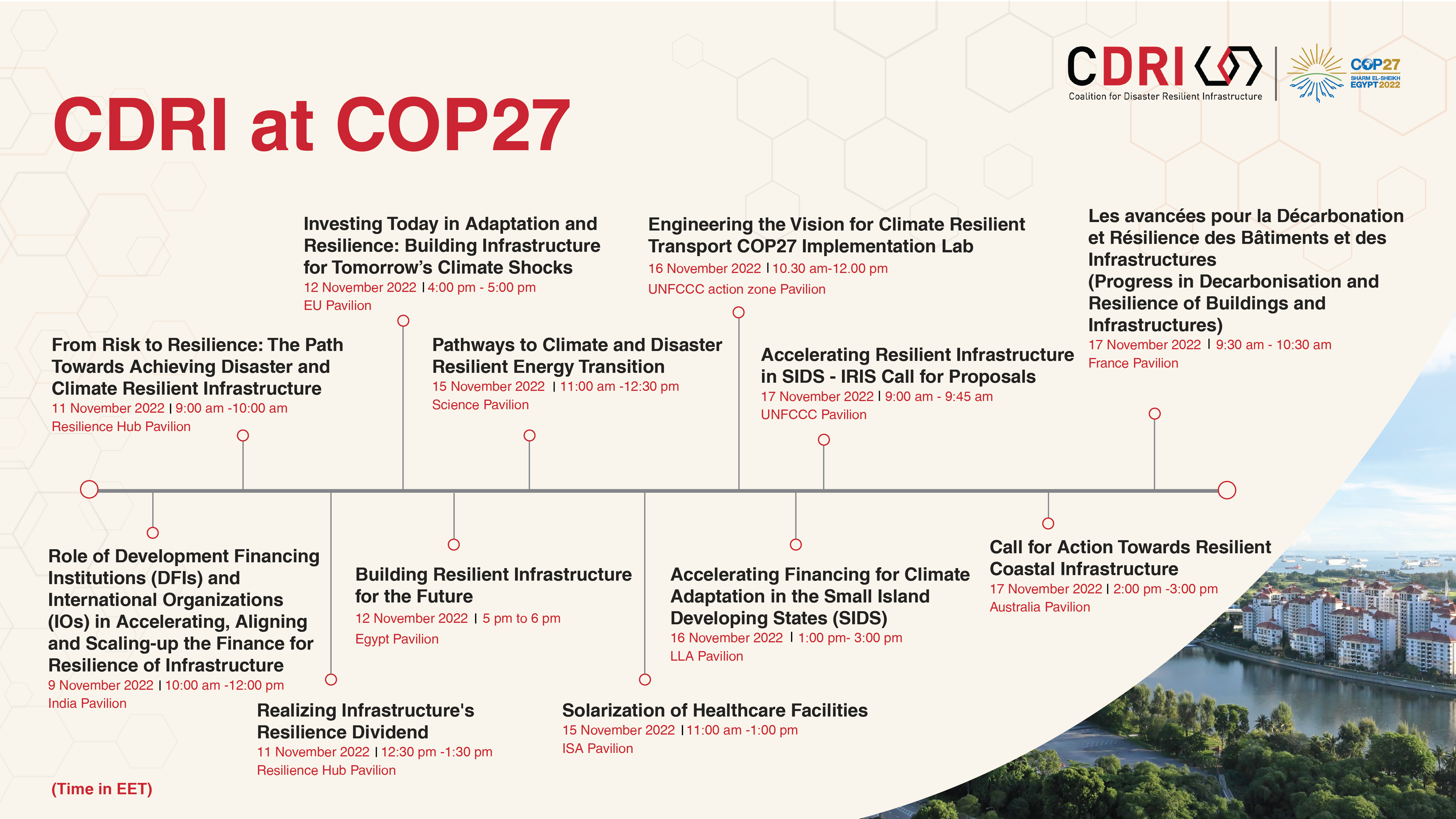 The Coalition for Disaster Resilient Infrastructure (CDRI) will reinforce the importance of disaster resilient infrastructure and the need for governments and institutions to work together at COP27, the world's largest climate summit in Sharm El Sheikh, Egypt, which is being held from 6 to 18 November 2022.
CDRI aims to align its engagements to the COP27 Presidency agenda by underlining the significance of disaster and climate resilient infrastructure to achieving the global call for action on adaptation. The Coalition envisions to strengthen the case for integrating resilience in infrastructure development through policy shift, scalable solutions, capacity development, risk informed financing, and joint action.
CDRI will be making two important announcements at COP27 - Infrastructure Resilience Accelerator Fund (IRAF), a US $50 Million Trust Fund to support global action on Disaster Resilience of Infrastructure Systems, and the Call for Proposals for IRIS (Infrastructure for Resilient Island States). "COP27 is an ideal platform to take forward CDRI's mandate to support capacity building, technical assistance, and knowledge creation and work towards reducing disaster risks related to infrastructure," shared Mr. Amit Prothi, Director General, CDRI.
CDRI will be leading eight multi stakeholder sessions on infrastructure resilience at COP27. The headline session will be the Presidency Programme Session on 12 November on Building Resilient Infrastructure for the Future, which will deliberate on the Biennial Global Report on Infrastructure Resilience scheduled for release in 2023.
CDRI's sessions will be hosted in partnership with different member countries and organizations, viz. Australia, France, the Eoropean Union, and partner bodies like International Solar Alliance, UNFCCC, World Meteorological Organization, Commonwealth Secretariat, and the Resilience Hub. CDRI also looks forward to actively partner with the Presidency and support its efforts towards enabling concrete action on progressing the climate adaptation goals.
Visit: COP (cdri.world)