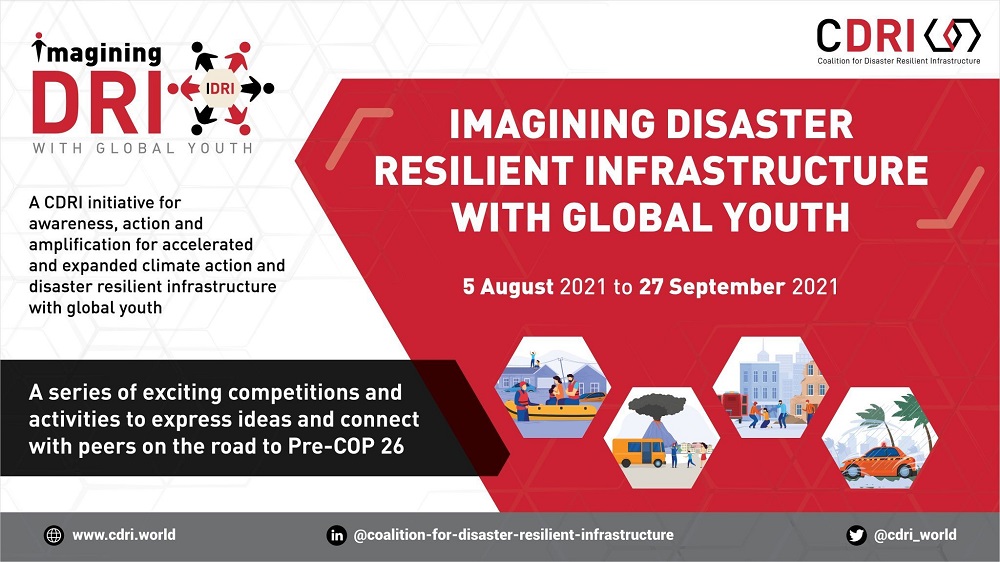 The Coalition for Disaster Resilient Infrastructure (CDRI) has announced the "Imagining Disaster Resilient Infrastructure with Global Youth" campaign from 5 August 2021 till 27 September 2021 in view of the preparatory ministerial meeting (Pre-COP) and "Youth4Climate2021: Driving Ambition," the international event dedicated to young people for COP 26. Realizing the unique potential of youth leadership in driving change for a resilient world, the campaign will focus on garnering youth awareness and engagement for disaster and climate resilient infrastructure.
CDRI understands that youth engagement is crucial for mobilizing narrative and inducing transformative change on climate action for positive social and economic development. The IDRI campaign is an initiative for awareness action, and amplification for accelerated and expanded climate action and disaster resilient infrastructure with global youth. The campaign will involve a series of exciting competitions and activities to express ideas and connect with peers on the road to Pre-COP 26.
In this series, CDRI has launched the first International Competition For Imagining Disaster Resilient Infrastructure.
The Competition Themes include:
What's Infrastructure Vulnerability to You: Express your idea of unreliable infrastructure, that may lead to disruption of services or may contribute to carbon emissions and disasters. Collate your ideas on how unplanned infrastructure increase the vulnerability of your city to disasters.
How Nature Supports Infrastructure Resilience: Express how nature plays an inclusive role in reducing the impact of disasters on infrastructure. This may include indigenous practices of your region that have helped to build resilience.
Innovating for Resilient Infrastructure: Convey how innovations and emerging technologies help in making infrastructure disaster resilient and curtail climate change. Express how new initiatives are paving way to a sustainable future.
Community based Initiatives: Share with us examples and ideas of people around you, working towards enhancing resilience to disasters. This may include local activities or voluntary actions.

Eligibility: 15 to 32 years/ Open to all countries
Prizes to be won:
Top three winners will get US$250 each
Next seven winners will get $150 each

Guidelines:
Language of communication must be English.
Individuals can make multiple submissions.
The submissions are strictly meant to be an original work of authors. Plagiarized entries will not be considered.
The submission must have a narrative of minimum 200 words relevant to the chosen theme.

Submission Format:
Photographs (Format: .jpeg / .jpg / .png, Maximum Size: 5 MB)
Thought Piece (Word limit – 1000 words; Format: .pdf, Maximum Size: 5MB)
Poems (Format: .pdf, Maximum Size: 5 MB)
Doodles/ sketches/ comics (Format: .jpeg / .jpg / .png, Maximum Size: 5 MB)
Posters (Format: .jpeg / .jpg / .png, Maximum Size: 5 MB)
Animations / Short videos (Format: .mp4, Maximum Size: 100 MB)

Submit your entries: YOUTH FOR RESILIENT INFRASTRUCTURE Y4RI (cdri.world)
If you are in the age group of 15- 32, unleash your talent and get a chance to engage with youth globally.